About every five years, FICO systematically updates its credit scoring formula to help lenders make better credit-granting decisions. According to FICO, the latest version will smooth the way for lenders to assess borrower risk.
Consumers can expect the changes to influence their credit scores. Whether or not consumers see a slight or substantial impact, the increases or decreases to their scores will rest on the individual consumer's financial habits and overall health—particularly, how they manage personal loans and debt.
The Focus of FICO Score 10 Suite
FICO's latest scoring model, FICO Score 10 Suite, focuses heavily on debt. This two-part version includes the FICO Score 10 and FICO Score 10 T, and will be available this summer.
According to FICO's press release, FICO Score 10, was designed to improve predictive power of consumer credit risk using determinants from past FICO models, such as: payment history, amounts owed, age of credit history, credit mix and new credit.
The FICO Score 10 T was formed to advance and ensure precise lending decisions through trended credit bureau data. Meaning, the scoring system will analyze the last 24 months of consumer balance and payment data.
The Value of Trended Credit Bureau Data
Empowering lenders with dynamic insight into consumer credit behavior, trended data allows lenders to confidently discern borrower creditworthiness.
This isn't the first time mortgage lenders have used trended data to determine creditworthiness. Fannie Mae has been analyzing consumer credit behavior using this system to enhance DU's risk assessment since 2016—a time when trended credit data was not available for all three credit bureaus.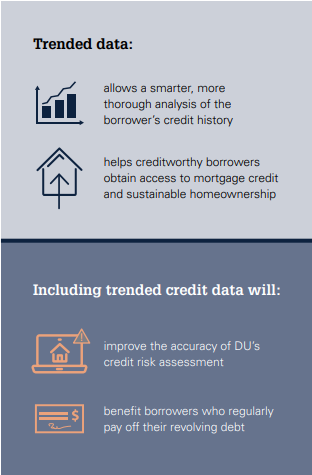 "Many lenders want to leverage the most comprehensive data possible to make precise lending decisions," Jim Wehmann, executive vice president for scores at FICO, said in the company's press release. "By offering a score that taps further into trended data, we're able to give lenders greater flexibility and predictive power, as well as ease of integration."
Subscribe to BeSmartee 's Digital Mortgage Blog to receive:
Mortgage Industry Insights
Security & Compliance Updates
Q&A's Featuring Mortgage & Technology Experts
Using FICO's new scoring model, lenders will be able to access the following types of historical payment information:
Balance amount
Original loan and limit amount
Scheduled payment amount
Actual payment amount
Last payment date
Bankrate describes trended credit data as a way that can help lenders identify borrowers as either "transactors" or "revolvers"—whether or not they regularly pay their credit card balances in full or make minimum payments and keep a balance, respectively.
Lenders can use borrower debt management data to:
Offer the right loan products to meet consumer financial needs
Reduce consumer attrition rate
Ensure ability to repay
Limit risk exposure
The impact of this new scoring model is yet to be seen. There have not been enough underwriting decisions made using this new model to give us a clear picture as to whether or not lenders will experience less payment delinquencies, after underwriting to new credit standards—that account for a borrower's payment making behavior—versus their basic credit tradeline analysis used for assessing credit worthiness today," said Arvin Sahakian, BeSmartee's co-founder.

"On the surface, this new scoring model feels like a step in the right direction, because there are many borrowers who make repayments to their credit lines that are in excess of the minimum requirements to pay off debts more quickly, but are not taken into consideration today when qualifying them for rates and programs."
Conclusion
Mortgage lenders can expect an effortless integration and shift from earlier FICO versions to FICO Score 10 Suite thanks to consistency across scoring models; however, US News reports that lenders will likely take about two years to fully adopt.
Get updates from BeSmartee sent directly to your inbox! Subscribe to our newsletter here.