Wholesale lenders are constantly working toward expanding their network and streamlining their business for better efficiency. While wholesale lenders typically have the underwriting authority and the ability to fund a mortgage loan, brokers have a deeper presence in the marketplace and access to more loan products.
Banks, credit unions and brokers often work with a variety of wholesale lenders to offer their customers flexible loans and a superior experience. However, some wholesale lenders stand out more than others as trusted industry leaders.
What Is a Wholesale TPO Platform?
A third-party originator (TPO) is a person or company that works with a lender to originate a mortgage loan. Lenders may outsource their origination process to third-party services for a variety of reasons, such as to save money on underwriting costs, provide a more efficient experience to their customers and to take advantage of online lending platforms.
BeSmartee's Wholesale TPO Platform gives third-party originators an automated, centralized submission portal to submit borrower applications and related documentation. The automated TPO platform can be integrated directly into the originator's LOS, providing a simple, seamless experience while allowing wholesale lenders to maximize profitability and focus on compliance.
Why Should Wholesale Lenders Consider a Wholesale TPO Platform?
Wholesale lenders face a lot of competition. Brokers and other third-party originators depend on their partnerships with banks, credit unions and wholesale lenders to offer their customers flexible loan options and to generate revenue.
When deciding what wholesale lender to work with, brokers always consider the lender's process. How easy is it to get the deal closed? This is important in a competitive market.
If the process is slow and frustrating, the broker can simply find another lender. Most of this comes down to mortgage technology.
A wholesale TPO platform allows wholesale lenders to build better relationships with their broker network and to give originators the automation tools they need to quickly and efficiently move mortgage loans through the pipeline.
Subscribe to BeSmartee 's Digital Mortgage Blog to receive:
Mortgage Industry Insights
Security & Compliance Updates
Q&A's Featuring Mortgage & Technology Experts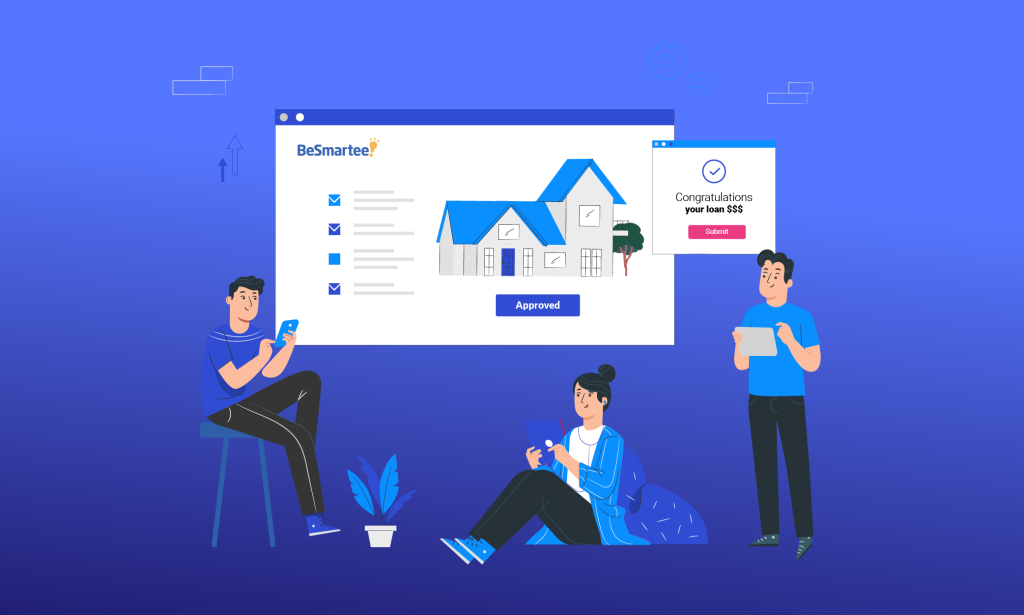 Benefits of BeSmartee's Wholesale TPO Platform?
The recent mortgage boom has shown the mortgage industry the vital role that automation technology plays in facilitating efficient business processes. Here's how BeSmartee's Wholesale TPO Platform has helped wholesale mortgage lenders boost business.
Streamlined submission process: Improve back-office efficiencies and save time with an automated submission process.
Reduced cycle times: By simplifying processes, reducing cycle times and closing faster, wholesale lenders can increase profitability.
Grow TPO network: By offering a user-friendly wholesale TPO platform, lenders can improve connections with their broker network, potentially increase referrals and achieve market leadership.
Improved customer experience: Transparency, greater efficiency and faster cycle times mean that borrowers are getting to the closing table even faster with fewer delays. Although wholesale lenders don't work directly with borrowers, a positive customer experience can improve relationships with the broker community.
A Guided Tour of BeSmartee's Wholesale TPO Platform
BeSmartee's Wholesale TPO Platform features an automated centralized submission portal for borrower applications and supporting documentation. After the submission process, originators can fulfill loan requirements, such as editing fees, running pricing and requesting and satisfying conditions.
Here's an overview of the submission process and the fulfillment of loan requirements from BeSmartee's Wholesale TPO Platform.
Originator dashboard: From the dashboard, originators can access industry news, assign wholesale account representative contact information, create to-do lists, access the mortgage market direction and rates tracker, calculate turnaround times and access lender-paid compensation details.
Submit, edit and review applications: Originators can use the TPO Platform to import the application file and then follow a guided process to supply supporting data and documentation to complete the loan submission process.
Review underwriting summary: Both the originator and the underwriter will have access to the same 1008 Form.
Run and review credit, PPE and AUS results: Originators will be able to review borrower information, run or reissue credit, view credit reports and history and then run pricing and AUS.
Generate, review and eSign loan estimate and disclosures: Originators can view loan estimate fees and service providers, loan detail reports, initial and regenerate disclosures and eSign documents.
Once the submission process is complete, the originator will be directed to the MLO Command Center, which will enable the fulfillment of loan requirements.
Closing center and income tax analysis: Originators will have access to the closing center to start the closing disclosures process, view loan progress and access actionable requirements. Originators can also upload tax returns for income analysis via data extraction.
Change requests and change of circumstance: Describe and document change requests and change of circumstance requests.
Lock pricing: Ability to lock and float pricing.
Conditions and documents: Ability to view and issue conditions, upload documents and review closed conditions and disclosures.
Status updates: Detailed loan file status in the milestone overview, including changes made through the application and submission process.
Product matrix and resources: Access to PDF documents of wholesale lender rate sheets.
Roundup
BeSmartee's Wholesale TPO Platform gives wholesale lenders the ability to enhance the lending experience for their network of originators through automation.
To simplify the process even further, the TPO platform can be used with BeSmartee's POS solution to expedite the mortgage application, collection and submission process. This removes the need for the originator to go through the file submission process altogether.
To learn more about BeSmartee's platforms, contact one of our experts.