In the era of mortgage technology, even the smallest innovations can have a profound impact on the industry's efficiency and user experience. Today, we're excited to unveil a new feature that promises to make a significant difference in the world of mortgage technology — soft-pull credit credential testing.
In this blog post, we'll delve into the details of this game-changing addition to mortgage technology and explore how it enhances the capabilities of lender administrators.
The Vital Role of Mortgage Technology
Technology has played a transformative role in reshaping the mortgage application process, making it more accessible, efficient and user-friendly. From online document submission to automated underwriting systems, technology has revolutionized the way borrowers and lenders interact throughout the mortgage journey.
In this fast-paced digital age, staying at the forefront of technological advancements is not just an option; it's a necessity for anyone involved in the mortgage industry.
Introducing Soft-Pull Credit Credential Testing
This exciting new feature can be traced back to a critical need within the mortgage technology ecosystem — the ability to test credit credentials effectively. While the removal of a similar feature for hard-pull credit credentials in a previous update sparked the initial conversation, the mortgage technology development team recognized the value of expanding this capability to include soft-pull credit credentials.
Evolving Mortgage Technology: Soft-Pull Credit Credential Testing
Subscribe to BeSmartee 's Digital Mortgage Blog to receive:
Mortgage Industry Insights
Security & Compliance Updates
Q&A's Featuring Mortgage & Technology Experts
Key Features and Benefits
Let's take a closer look at the key features and benefits of the soft-pull credit credential testing feature:
1. Seamless Testing Capability
Lender administrators now have the power to test their soft-pull credit credentials directly within the mortgage technology platform.
This functionality mirrors the existing feature for hard-pull credit credentials, ensuring a consistent and intuitive user experience.
2. Icon Design Consistency
The icon used for soft-pull credential testing has been thoughtfully designed to closely resemble its hard-pull counterpart.
Consistent iconography aids in immediate recognition, enabling users to easily identify and utilize the feature.
3. Familiar Placement
The placement of the soft-pull credential testing icon is strategically positioned in proximity to the hard-pull feature.
This familiar placement ensures that lender administrators can effortlessly access the functionality they need without unnecessary searching or navigation.
4. Enhanced Quality Assurance
With the ability to thoroughly test soft-pull credit credentials, lender administrators can ensure the accuracy and reliability of these credentials.
Robust quality assurance minimizes the risk of errors or complications during the mortgage application process, leading to more efficient transactions.
5. Streamlined Workflow
Lender administrators benefit from a streamlined workflow that empowers them to proactively verify the functionality of their credit credentials.
The feature equips administrators with the tools needed to address any potential issues swiftly, reducing delays and complications for borrowers.
6. Improved Borrower Experience
The benefits of this feature extend beyond lender administrators to borrowers.
A smoother mortgage application process, free from credential-related hiccups, instills greater confidence in borrowers.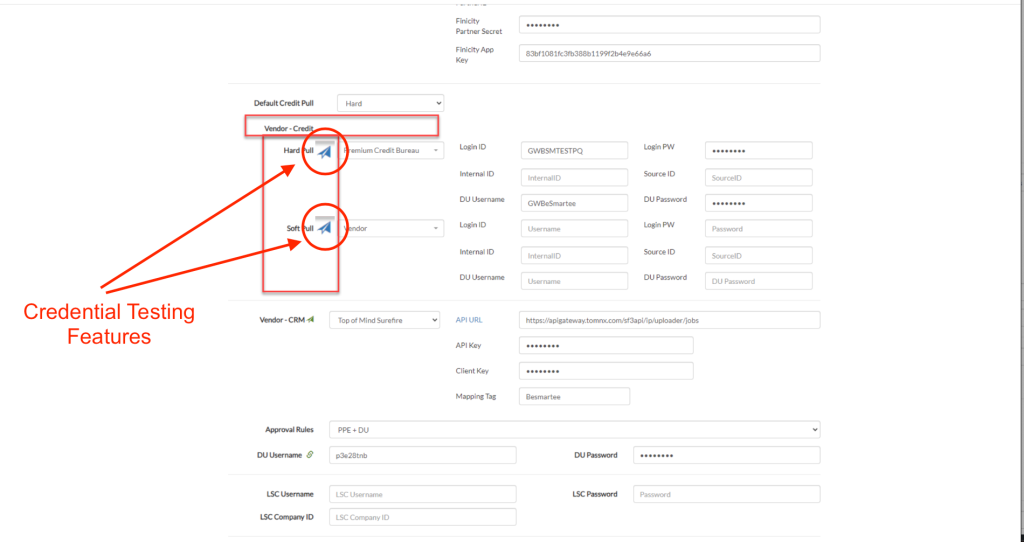 Improving the Mortgage Experience
The introduction of soft-pull credit credential testing represents another step forward in the continuous evolution of mortgage technology. It underscores the commitment to excellence and user-centric design principles that drive innovation in this field.
A Promising Future for Mortgage Technology
It's essential to recognize that this is just one of many advancements on the horizon for mortgage technology. The industry is characterized by its constant quest for improvement, driven by the desire to make the mortgage application process as seamless and user-friendly as possible.
Stay tuned for more exciting developments in the ever-evolving world of mortgage technology. Experience the future of mortgage technology with BeSmartee — your pathway to streamlined, accessible and efficient homeownership. Get started today and discover how BeSmartee's solution can improve your lending service!